Controlling your home with one solution
November 2009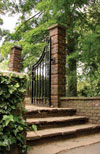 It took a nasty incident experienced by one of his friends, to spur Martin Koch of Vedi Security into re-assessing the efficacy of the video security solutions most commonly used by homeowners.
One night, three intruders followed Koch's friend into his driveway, held him down at gunpoint, asking firstly who was in the house, and secondly, where the video recording system was. The intruders were not only able to locate the video recording system, but promptly ripped it out – the very system that was meant to protect Koch's friend and his family. Instead of being empowered by their security equipment, this family was left helpless.
According to Koch, the vital point to learn from this story is that it is pointless having onsite recording if there is no outside trigger to warn the control room monitoring your home that you may be in trouble. Without this outside trigger, it is often too late to get help as the intruder has already overpowered you and your system.
Eradicating the weakest link
Koch is a keen advocate of Visonic's PowerPro security system, only recently launched in the South African market.
In a nutshell, the PowerMaxPro is one of the only solutions on the market enabling users to verify the status of their property by viewing real-time images of their homes from any remote location. The system protects as many as 30 zones, with virtually any combination of Visonic equipment. It supports an exceptionally wide range of detection devices, including wireless passive infrared (PIR) and pet-immune motion detectors, glass-break, gas, smoke and flood detectors, and door/window magnetic contacts, GSM backup capabilities, remote access via SMS, e-mail, mobile or regular phone or a secure Web application, and more. The PowerMax+ offers flexible configuration, clean wireless installation and takes less than one hour to install if using the plug-and-play option.
In case an event is detected, PowerMax automatically issues a report to the monitoring station, simultaneously transmitting digital and voice alerts to pre-programmed private telephones and/or pagers. Two-way voice communication can be initiated, enabling remote homeowners to assist any child or elderly resident.
According to Crause, with the PowerMax system, homeowners can control their entire home, security, airconditioning, appliances, lighting, through the system's easy-to-use keypad or any remote touch-tone or cellular phone. The commands are intuitively learned and easily recalled, thanks to a graphic user interface with audible prompts in a choice of 22 languages.
The perimeter trigger
By installing a magnetic contact on the perimeter gate, 'trigger number one', the control room will know immediately whenever someone enters your home. While you may ask why the control room needs to know your every move, they will know people and habits, and thus be able to pick up on any suspicious behaviour. Sometimes this suspicious behaviour may be totally nondescript and innocent, but there may be a time when it is not.
With the control room monitoring your home, it gives huge peace of mind. If, for example, somebody is following you into your home and you are not aware of it, you will be protected by the security system.
The first trigger would have alerted the control room that someone is entering the property. They would then see another person behind. This would immediately send an alert warning. And once you are inside, there is another trigger, allowing the control room live footage of your home. By activating two triggers, an intruder aiming to pull out the video recording system, will in fact already be being recorded right from first entry into your property. An SMS alert signal will be sent to relevant cellphones and the security company monitoring your home will have guards dispatched immediately.
The product retails at about R20 000. When one considers what it can do to prevent the type of high risk crime that South African's are faced with daily, as well as the other benefits of fireproofing and child-proofing homes, there is value in the spend. But, Martin cautions, the trick is to secure your premises thoroughly on the outside, not only on the inside.
Are South African's using this technology?
According to Martin Koch from Vedi Security, homeowners are slow to catch on to the benefits of video security. Traditionally, video monitoring has been a costly exercise. A typical standard video recording installation would cost anything up to R150 000, depending on the number of cameras required. "You do not need so many cameras," advises Martin. "Your average homeowner really only needs two cameras: one on the inside where high value items are placed, and one outside allowing full view of your entrance."
Martin says that South Africans see video security as an expense. They are too price sensitive and not quality driven enough. "A life threatening incident only has to happen to you once for you to understand that spending a little more on quality is worth saving you or your family's lives."
Who does the monitoring?
"We cannot underestimate the importance of offsite monitoring," stresses Martin Koch. "There is no use recording information at home if no-one is watching it or monitoring it. And what is the point in having a video system if it can be vandalised by a criminal and be rendered useless in a time of crisis? No forwarding of information could then take place, and all-in-all, you would be as vulnerable then as you would have been with no system in place."
Related News
[ November 2009 ]

[ November 2009 ]