The art of living safely
November 2009

The ultimate life would be where no crime exists and nobody means any harm to his or her neighbour. Unfortunately we have had to learn that in South Africa that Utopia simply does not exist. Crime is a reality and is very cold when it affects the ones nearest to us. Moreover it feels violating and it renders us helpless to the environment we are in.
Often our response to this situation is to say there is so much crime I am simply not going to make a dent by myself. The attitude gives us a feeling of surrender and that fate will do with us what it pleases. We at Visonic have always understood that crime prevention, though important, is not the only aspect of a home that one should look at.
Reality once again has indicated that one out of every three children under the age of five drown every year in home pools.
Our most valuable treasure is our family. Our company has focused on making a concerted effort not to only introduce a lifestyle solution, but to give customers a real sense of safety.
We often have a false sense of security due to the lack of understanding of the real threats that exist in our homes. The gas stove, the jelly candle and all the other non-offensive and often cute things can cause the most harm.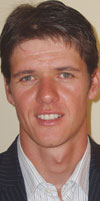 Johan Crause
Visonic introduced the Powermax range of products 11 years ago. The intention was to integrate five vital aspects of our home security in one easy-to-use solution. These aspects are home intrusion, home automation, home healthcare, home safety and home visual verification. Combined, these have become the pillars of Visonic's focus and core of operation. And all of this is done wirelessly.
The Tower 20 is one of the latest of our solutions for the home. This product introduces the ultimate in outdoor detection. The outdoor detector is a wireless product that is mounted between 2 m and 3,1 m on any outdoor wall. The battery life is 5 years and has some of the most technologically advanced modes of detection available to us. Apart from it being pet immune up to 18 kg this detector defines when an item like a bush is swaying in the wind or a cat is jumping up on a wall. It means you do not have to cut any of your shrubbery away or do anything obscene to your garden. It simply fits into your lifestyle.

Apart from having eight infrared detectors built into it, it also boasts black mirror technology. This means your alarm being activated because of lightning is a thing of the past as black mirror defuses the possibility of this happening.
Apart from the Tower 20, the range of detection is limitless. Wireless fall down detectors, wireless gas detectors, wireless flood detectors, wireless smoke detectors are but to name a few of the product lines from Visonic. In today's age one would expect the technology to be affordable. And it is, if you want to protect your art or just simply wanting to make sure that your kids are home, our product does this with flying colours.
Visonic has also designed an entry-level panel, the Powermax Express, it can accommodate 29 wireless zones and one wired zone. The inexpensive panel has been received with great anticipation, as it is known to be affordable and to suit the consumer's pocket. Our philosophy is to provide the consumer with the ability to decide what will suit thefamily's needs.
The biggest difference between the Powermax Pro and the Powermax Express is very simple. Where the Powermax Pro has the voice activation and the ability to integrate with CCTV, the Express does not. Nevertheless, if you are a homeowner that is looking for an holistic approach to your security needs and would like to take your system out and use it in your next home the Express will certainly appeal to you.
Everything required in this day and age is on our fingertips. We believe that looking after you and your loved ones is perhaps the single most important objective that one could have. It is with soberness that one reflects on the responsibility, but with excitement at the opportunity to assist in securing a home where every little bit helps making it a better place to stay.