Securing your home
July 2009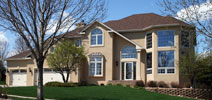 Homeowners addressing their home security requirements often feel intimidated by the abundance of fancy security systems out there, many laden with so many bells and whistles that the notion of 'simple' or 'user-friendly' seems out of the question! This said, this article has been carefully compiled to deconstruct the myths behind these gadgets and technologies, revealing that they are not only simple to understand, they are also simple to use.
Step one: Understand the basics of modern security solutions
Homeowners can no longer hide from the vital role that information technology (IT) now plays in their home security. And the notion that it is an expensive extravagance too advanced for simple home requirements must be met head on. Good technology may come at a price, but if you choose your solution smarter, it will work harder – without your spend having to exceed your budget.
Twenty-first century home security comprises an IT nerve centre, with six integral control systems linked to this core. Traditional security solutions treat these all as separate standalone entities. Modern solutions integrate them all into one effective security solution.
Step two: What are your requirements?
"People do not pay attention to their security system when building or renovating. It is a grudge buy." This according to Andrew Stead, MD of ADI in South Africa. He is not alone, it is a fact widely lamented in the security industry.
You need to ask yourself one fundamental question, says Stead: "What value do you put on your security system, and what are you wanting to protect foremost, your family or your assets?"
Stead argues that homeowners in South Africa need to face the reality that if you want to protect your lives, and not just your home, then it will cost more. Simply put, extra security measures to ensure your absolute safety, come at a cost. And you have to decide if it is worth it.
Before you call an installer or security advisor, take the time to work through your security requirements methodically, layer by layer, right from the basics. The result will be far more satisfying because you will get what you want and your advisor will know that you have a clear understanding of your security needs. He will not have to make the decisions for you.
This done, you, the homeowner will be far more empowered to discuss the pros and cons of the products available to you with your advisor or installer. The whole process will appear less frightening and, most importantly, the options will make sense.
And Stead warns that insurance companies will not protect you if you do not have your 'ducks in a row'. "Make sure you have an insurance approved installation and that it is linked to a central station," he cautions. And ask yourself if the basic installation is adequate. It is widely contested that insurance companies do not actually care about the quality of your alarm system, however, it is in the best interests of all parties that your home is equipped with an alarm that meets your needs.
Step three: Start with a plan
What kind of home do you have? South African homes fall into any one of the following six categories.
1. Free standing homes.
2. Estates.
3. Townhouse complexes.
4. Flats.
5. Small holdings.
6. Farms.
Each of these homes demands its own set of security requirements. Once you have understood your individual needs, you are ready to start your assessment:
* Assess your entrances at the perimeter gate, driveway and the front door.

* Assess your perimeter security.

* How many windows and doors do you have in your home?

* Do you have a garage?

* How many rooms in the home – and how many of these are bedrooms?

* How are your courtyard, back yard and veranda situated?

* What are the visual dimensions of your garden?

* Do you have a swimming pool?

* Do you have a cottage or outside office and does it have its own entrance?

* Do you have staff quarters?
Do not only think intruder protection.
* In addition to intruder protection, would you like fire, smoke, and carbon monoxide detection?

* Is your swimming pool a threat to your children's safety? One simple camera connected to your cellphone or computer could save a life.

Step four: Budgets dictate
ADT says a consumer's choice of equipment depends on affordability. Entry-level security would include a simple house alarm and an electric fence. A reputable security company will either assess your existing electric fence or bring in a third party to do this, before making any recommendations. If on the other hand, you are installing electric fencing from scratch, a credited supplier would be recommended to undertake the job. Any armed response company would want to ensure that your fence is correctly installed as poorly constructed fences result in false alarms or, even worse, a false sense of security.
If budget allows, added extras worth pursuing would be outside beams and a basic CCTV camera. A basic standalone camera retails anywhere from R1500 (no integration into an alarm system) to R8500 for a four-camera system installed into your home, and anything upwards of R20 000 for a more sophisticated camera installation.
The golden rule:
When deciding on which products to install, Gus Brecher from Cathexis Technologies advises customers to first determine if the products they want can be upgraded. If not, you can be sitting with obsolete technology in a couple of years that cannot be fixed or upgraded – an expensive problem. Hybrid technologies, for example, make use of current analogue connectivity solutions, but are equally capable of being integrated into next-generation IP (Internet Protocol) solutions without the customer having to buy more hardware.
Similar Articles
[ July 2009 ]

[ July 2009 ]