The path into your home
July 2009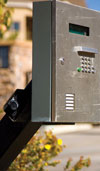 Controlling who has easy access to your home is the first step in a secure lifestyle.
Access control in the home is a broad topic that covers keeping undesirables off your property completely, through to detecting intruders in your property but before they enter the house, and finally, as a last resort, detecting intrusion and raising the alarm when criminals are inside your house.
Over the next few pages we will be examining some of the primary detection mechanisms in use today, ending with the newer technologies that are only now finding a place in the home. In future editions we will expand on this to include other products and solutions that make up a complete security implementation. This article will look at issues outside your house. To begin, we start at the gates.
Gate security
Your gate is the first point of entrance to your property. South Africa's high crime rate has literally rendered it mandatory for most homeowners to have some form of remote motorised gate control as well as an intercom screening system.
Homeowners often do battle with their gate motors. If they are not sticking due to weather conditions or sabotage, they are at risk of being stolen or hit by lightning. You need a gate and a gate motor designed for South African conditions. Beware the 'cheap-and-nasty' options, they are not worth it as they can cost far more than the purchase price. When deciding on a gate, bear the following in mind:
1. Quality: Choose your brand wisely – it could save you a lot of money and time. There are many cheap and nasty brands imported from the East; some have no credibility and no backup system should things go wrong.
2. Support: Make sure the brand you buy is supported by your installer and that it has local representation in South Africa.
3. Installation: Must be top quality as this is your most used and trusted form of security. You do not want to be fiddling around at a gate because it will not open, this in itself is a serious security vulnerability.
4. Maintenance: Look after your gate.
Can your gate be opened in an emergency?
Product manager for Elvey Security Technologies, Valerie Bingham, warns that residents barricade themselves into their properties in defiance of criminal activity, but in doing so they often overlook the fact that they are also cutting off vital access for their armed response companies in an emergency.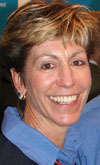 Valerie Bingham
"Crime control today is not just about installing physical security measures," she says. "Armed response reaction times and the ability by security personnel to enter the premises to investigate the cause of an alarm are critical elements of protection. It is not much use for them to respond to an alarm in an instant, only to be unable to get on to the property."
Francois Malan, director of Camsecure, a security solutions provider in South Africa, strongly recommends including a key pad at your gate and intercom access so as to allow security companies access to your property should you not be there.
Francois Malan
In addition, cellular technology is also changing the way we access our properties. There are many affordable cellphone modules readily available on the market, set up to operate your gate remotely. Closing and opening your gate has never been simpler. Furthermore, cellphones enable early detection of interference with your gate, via software which enables your gate to automatically send an SMS to your phone should your gate open while you are away.
Cellphone modules retail anything upwards of R1000 and homeowners can purchase these from any good alarm supplier or local security providers.
Garage doors
Many residents access their homes via their garage door, but there is a downside to garage doors: they offer easy access for opportunistic criminals.
Coroma, a manufacturer of both garage and industrial doors, gives the following tips to help you avoid your garage being an open invitation to criminals:
* Keep your garage door closed at all times, particularly if it has an internal door leading into the house or is used to store tools and gardening implements that criminals could use to break into your home.

* Garage doors should be fitted with battery back-up to avoid being stranded outside an automated door during power cuts. Alternatively, ask your supplier to provide you with inverted power supply at minimal cost, to convert your 220 V operator into a battery back-up unit.
* If your automatic door is struggling to open or your manual door feels heavy, it is probably out of balance and springs need adjustment. Call in the experts for help as they will be able to rectify this common problem for you as well as perform routine maintenance to keep the door operating at optimal level.
* Many garage doors are fitted with the bare minimum of features in order to save costs. Items such as weather seals and safety cables are omitted, leading to early wear and tear or compromised safety. Get a professional to check your door's features and fit these safety precautions if necessary.
* Make sure you know where all your remote controls are. If one of these is lost, ask your garage door supplier to reset the rest to avoid potential theft. Never leave the remote controls in your car as some thieves are able to record your transmitter's signal and open the door without stealing the control. Also, insist on encrypted coding or code hopping transmitters and receivers to optimise your security.
* Some garage door designs can be fitted with safety glass panels that allow you to see inside and avoid any nasty surprises.

* Check whether your garage door has an external key release. If so, keep the keys handy for situations when you may have to open the door manually. Should your garage door be the only way into your garage, an escape lock should be fitted, enabling you to manually override your motor from outside your garage. If you do not have an external key release, make sure you always have your front door keys with you when you leave home!
Your first line of defence
Perimeter security is your first line of defence. It should be your first warning mechanism, stopping the intruder before they get inside your home.
What are the options?
* Electric fencing.

* Electric palisade fencing.

* Spiking.

* Rotating spikes.

* Barbed wire.

* High walls with lighting.

* High-tech fibre-optic detection systems.
Linking the above deterrents to your house alarm gives live 24-hour protection enabling instant armed response. The perimeter security industry is extensive. So be informed. Nicky Taylor, marketing support practitioner for Betafence, outlines some important facts to note.
Demarcation: Fences in the demarcation category indicate a boundary. It shows the public where your property begins or where an area ends.
Dissuasion: Fences in the dissuasion category prevent the intentional trespasser from crossing your boundary. They have a dissuasive effect. Dissuasive fences form a physical obstacle, indicating that entry is reserved to authorised persons only.
Delay: Fences in the delay category hinder entry and are considered security fencing. Delay is defined as the time the fence resists unauthorised entry. The required delay time is very much related to the security response time. Tests by police departments have shown that the delay factor of high security fences must be over 40 times greater than other systems.
Detection, access control and deterrence: Detection systems must trace any form of unwanted breach of the fence within the delay period. Additional electric components such as an acoustic alarm, security lighting and camera surveillance also have a deterrent effect.
Design: A fence should be an architectural extension of your home and not an eyesore. It must however promote clear surveillance so as not to provide any hiding places for criminals. Ensure that there are no holes or gaps under the fence line which can become a weak point later on. Think 'over, under and through' when assembling a fence, this way you can identify the vulnerable points.
Beware the pitfalls
Price: "It is a competitive market, so you can find a good quality product at the right price," says Taylor. "Remember it is an investment, so if you pay more in the beginning for a better product, you are likely to spend less in the long run on repairs and maintenance, thereby saving yourself money and a lot of effort."
DIY option: Ask for at least three quotes and compare specifications very carefully to ensure that you have the ideal system. Alternately, if your home is being designed by an architect, ensure he is aware of your needs right from the beginning to allow him to design and draw up the right specification for your perimeter fencing. Certain fencing manufacturers specialise in working closely with architects ensuring that the form and function of perimeter design are met.
Installation: Be sure to ask the supplier if they have an installer network that they can refer you to. This will mean that the installers have been trained in the installation of the fence system and you are ensured of a hassle-free installation!
Workmanship: This is often overlooked, but is crucial to the overall aesthetics and finished product. Ask if the contractor has any certification. The Construction Industry Development Board (CIDB) is the benchmark for verifying the standard of contractors in South Africa.
Risk assessment: the rules
Establish the most appropriate fencing system for your home by identifying its risk. By following these simple Do's and Don'ts you will avoid making unnecessary and costly mistakes:
Do's:
* Speak to your local police station, armed response, local neighbourhood watch.
* Speak to your insurance company about what level of security is required in the area. Very often, they have all the statistics on hand to help you.
* Find out what type of crime is prevalent in your area.
* When does the most residentially targeted crime occur? Is it mainly in the daytime when no one is home but the alarm is on or is it mostly at night when you are at home and the alarm is switched off?
* Establish a budget: know how much you can spend. Find out if your bank will finance the fencing through your mortgage bond.
* Work with reputable companies with references.
* Look for systems which require low maintenance or are offered with a maintenance plan.
* Get guarantees and warranties.
* Plan and do a thorough risk assessment.
* Check that the fence installation is correct before you sign it off.
* Know where your property boundary is so that you do not install the fence on your neighbour's property in error.
*Don'ts:
* Do not rely on your neighbour's systems to protect you. Their systems may be absent or non-operational.
* Do not look for a 'quick-fix' solution.
Similar Articles
[ November 2009 ]

[ November 2009 ]