Transparent burglar bars
November 2009
If living behind visible barriers is not your thing, then read on . . .
Called ClearBars, these burglar bars are made out of the strongest thermoplastic available. Extensively tested in Israel and used for riot shields in law enforcement, visors for helmets, aeroplane windows, rocket windows and Formula 1 cars amongst others, the imported and specially treated polycarbonate material has a tensile breaking strength of 3000 kg and is virtually indestructible.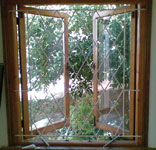 Window before ClearBar
It is thanks to Cape-based Martin Nauta from MultiSafe Security who came up with the concept. A mechanical engineer by trade, Nauta started MultiSafe Security in 2005 in Hout Bay. After a while, Nauta's two-man team struggled to keep up with demand. Rather than put more teams on the road himself he came up with selling the concept of setting up a Business-In-A-Trailer.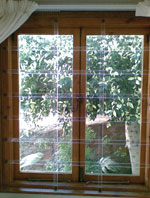 Window after ClearBar
The concept works as a complete mobile business designed for the installation of the ClearBars on customer's premises. Within eight months, Nauta had sold 20 trailers around the country, even in Botswana and Zimbabwe.
Diverse application
Alan Edwards, a ClearBar agent based in Pretoria, says the application of the bars is diverse, lending itself to a variety of installations. "The ClearBar concept has been extremely well received, not only due to its clear-view attributes, but also to its 'no-rust' factor. "We have fitted a number of houses on estates, including Waterfall Estate in Pretoria, retirement estates and golf estates. We have also fitted the bars into office blocks as well as shop windows. They are installed as safety mechanisms in second-floor homes, barring children's windows to keep them from falling out. Lodges use them as a deterrent to keep monkeys out without ruining guests' views and ventilation. And finally, the bars are also used for pet entrance and exit points in kitchen windows."
Embassies have also cottoned onto their aesthetics, securing their diplomatic staff homes with the bars. Another important market is second homes, invariably with scenic views.
Installation
Edwards confirms that the installation process is relatively simple and mess-free (no welding). The material is cut to size on site and can be installed in different ways, depending on the application. It takes plus/minus three hours to install the bars in an average house dependent upon whether homeowners choose wooden or aluminum frames.
Insurance and regulations
Nauta says he does not market the product as foolproof as he believes anyone who wants to gain access will do so. "It is a deterrent," he says. "Because it is fitted on the inside of a window, the glass would first need to be broken which would raise an alarm before the bars were tampered with. It is extremely difficult to crowbar as it is flexible – being made from polycarbon and not glass. This is the strongest thermo plastic in the world. They even use it to make rocket windows," he states. With regards to insurance matters, Nauta says insurance companies do recognise the product.
Cost
Surprisingly, the ClearBars are not that much more expensive than ordinary steel burglar bars. If fitted in wood it retails at R130 per running metre and if fitted in aluminium it retails at R145, fully installed. Most importantly the product remains 'as is'; it does not need any maintenance, painting or rust proofing.
Similar Articles
[ November 2009 ]

[ November 2009 ]

[ July 2009 ]