Fire, smoke and gas ... are South Africans complacent
November 2009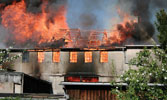 Leigh Yorke-Smith asked Chubb Security SA to explain why South Africans need to change their perception on the importance of fire, smoke and gas protection in their homes and what solutions should they be considering.
Why is fire/smoke/gas protection not seen as a pre-requisite to securing one's home in SA? Are the legalities not in place and how do we compare globally?
Because crime has had a far bigger impact on home-owners, physical security has received more focus than that of fire/gas/smoke protection. However, we believe more stringent regulations will be enforced whereby it will become necessary for homeowners to address fire/gas/smoke protection issues.
Gas hobs and ovens are becoming more popular in the domestic environment and it is only a matter of time before homeowners will be required to install adequate detection devices in the event of a gas leak. Other countries have adopted more stringent fire/gas/smoke regulations for homes using gas appliances.
What are the dangers – besides the obvious – that homeowners should consider if they choose not to install fire/smoke/gas protection?
Carbon monoxide (CO)
CO gas is colourless, odourless and invisible. The only safe way to detect this silent killer is with a CO detector linked to an alarm. A by-product of combustion, this lethal gas is emitted from any flame-fuelled (ie, not electric) device, including ovens, clothes/tumble dryers, furnaces, fireplaces, grills, space heaters, water heaters and vehicles. When one of these devices malfunctions or does not receive adequate ventilation, CO can quickly build up inside a business or home, causing injury or death.
Symptoms of CO poisoning mimic the flu, such as nausea, headaches and dizziness. Medical experts state that regardless of the level of exposure, it only takes one CO incident for someone to develop health effects that will last a lifetime.
Smoke and fire
Fires often break out in a home due to faulty wiring, unattended fires, candles left burning and the like. In addition, these fires can often occur in the evenings when a family is asleep in the home. In most instances if death does occur, it is due to smoke inhalation rather than the fire itself. The installation of smoke and fire detectors would save many lives.
Can you identify a couple of solutions that would make the most practical and economical sense for homeowners?
Fire-fighting kit
Homeowners should not be without a home safety fire-fighting kit consisting of a 1 kg extinguisher, a battery operated smoke detector and a fire blanket. A small portable fire extinguisher will help stop a small fire from spreading into a major disaster.
Nearly all fires develop slowly at first and can be extinguished before serious damage is done if suitable fire-fighting equipment is at hand. Even a fire which flares up instantly can be checked to the point of outbreak by prompt action. Portable fire extinguishers are best for a rapid response, but remember you do not want an appliance to be too far from the fire. It is also important to remember that the discharge of a portable appliance is limited, as its weight must be kept low for quick and easy handling. The correct knowledge of extinguisher use is fundamental to tackling fires effectively.
Fire extinguishers should be conspicuous and readily accessible, and portable extinguishers should be near exits, mounted on brackets at an approved height. Extinguishers should be marked with easily understood written and pictorial instructions in compliance with SABS regulations, as not all types are operated in the same way. Extinguishers must also be properly serviced and maintained annually in accordance with SANS 1475 Part 1-2005.
"Tackling a fire with the wrong type of fire extinguisher can be ineffective and even dangerous," says Coenraad Calitz, managing director of Chubb Fire. "It is therefore important to ascertain which fire fighting appliance is most suited to your needs and placed in the correct position to deal with each hazard."
Most homes do not contain fire blankets. Fire blankets are easy to use in an emergency and are ideal for tackling blazing chip pans, oil fires or to wrap around people whose clothing or hair have caught alight.
Carbon monoxide and smoke detectors
Detectors should either be placed on a wall about one metre above the floor or on the ceiling. Do not place them right next to or over a fireplace or flame-producing appliance. Keep them out of the way of pets and children and ensure each level of the home or business has a separate detector. If you are getting a single CO or smoke detector, place it near the sleeping area and make certain the alarm is loud enough to wake you up.
What would it cost to install these solutions?
A basic home safety fire kit, consisting of a 1 kg extinguisher, a battery operated smoke detector and a fire blanket retails very reasonably. If fixed detectors for smoke, fire and CO were to be installed, the cost would depend on the amount of detectors required. We recommend that you obtain the services of a qualified expert who can devise a safety plan that suits your home and budget.
Similar Articles
[ November 2009 ]

[ November 2009 ]