A simple system could save a life
November 2009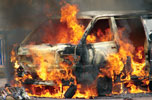 What are the various forms of fire, smoke and gas protection? What systems work best? Many factors need to be taken into consideration. We take a look at the options.
Fire hazards are one of the most immediate dangers that any household can face. Unfortunately, in many homes no fire procedures are in place as this is considered an event unlikely to happen. To keep your family completely protected, homeowners should consider a home security system that offers an accident-prevention and fire safety plan.
Furthermore, every family member should have an evacuation plan from various rooms in the house and should leave as soon as a fire is detected. Fire and smoke detectors are extremely helpful and can provide you with an early warning, which is of tremendous importance if the occupants of the household are fast asleep when a fire breaks out.
Passive protection
When your security system's main panel receives a signal from one of the fire detectors, two things take place simultaneously. The first is that the alarm system is set off to wake up everyone in the home; the second is the security company connected to your alarm which can assist you with taking the appropriate action.
Many people who have actually gone through a fire emergency in their home report that things happened so fast that they only had time to get out and could not use the phone. Modern high tech fire detectors now function by detecting heat. They are not affected by minor smoke (such as your toaster) and are consequently far more reliable.
Gas leaks can often go undetected until too late. However, state-of-the-art sensors can now detect odourless gas, sending a signal to the main panel that can, if programmed, automatically call for emergency help as it also sounds the alarm in the home.
Active protection
Fire sprinklers extinguish the fire at its source, before it has a chance to grow. Nine times out of 10, one sprinkler head is enough to extinguish a fire. The flow of water from fire sprinklers is designed to drop the core temperature of a fire past the point where heat can be maintained. The fire sprinklers put out the fire by removing its heat.
Fire sprinklers also reduce the chances of death by smoke inhalation that is the most common cause of death in case of house fires. Sprinklers are said to be more effective than fire alarms, fire extinguishers, and even the fire department.
Gas legislation
A homeowner installing a gas system is required to follow strict legislation concerning installation procedures. However, security experts confirm that it is very disconcerting to note that once a gas system is installed in a home, there is no follow-up checking system enforced in South Africa; with no legislation in place to ensure that routine checkups for leaks or explosion detection take place regularly, gas security in homes will remain tenuous.
Dispelling the price myth
A misconception about fire control products amongst consumers is that these units are expensive. Smoke detectors can be installed on to your existing alarm system, so there is no need to install an alarm meant just for fire protection.
A reputable digital security brand in South Africa will offer wireless and hardwire smoke detectors that can be added to your existing alarm system. Good fire detectors are extremely robust and would have undergone stringent environmental testing. Detectors are constructed from hardwearing fire resistant plastic and many are environmentally friendly.
Where to position smoke alarms
* Every room of the house.

* Every level of the house if you have a multiple level home.

* All stairwells – these act like chimneys for smoke and heat.

* Every area/room where electrical appliances are operated (eg, portable heaters; humidifiers or airconditioners).

* In the basement or garage.
Smoke, heat and combustion products rise to the ceiling and spread horizontally. Mounting the smoke alarm on the ceiling in the centre of the room places it closest to all points in the room. When mounting an alarm on the ceiling, locate it at a minimum of 10 cm from the side wall. When mounting the alarm on the wall, use an inside wall with the top edge of the alarm at a minimum of 10 cm and a maximum of 30,5 cm below the ceiling.
Additionally, smoke alarms should not be installed within 1 m of the door to a kitchen, near forced air supply ducts used for heating or cooling, by ceiling or ventilating fans, or other high air flow areas.
Familiarise everyone with the sound of the smoke alarm and train them to leave the house when they hear it.
Avoid false alarms
To avoid the unnecessary dispatch of the fire officials, note that the following areas could generate false alarms:
* Dusty, very humid conditions – moisture or steam can cause false alarms, as well as
insect-infested areas.
* Kitchens – normal cooking may cause false alarms. If a kitchen alarm is desired, it should have an alarm silence feature or be a photoelectric type.
* Near fluorescent lights. Electronic 'noise' may cause false alarms.
Vehicle fire protection
Since most homeowners own a vehicle, it would be unwise to ignore the measures required to put out a vehicle fire. According to Chubb, dry powder is the most effective way of extinguishing vehicle fires. Speak to your local car dealer about equipping yourself with a fire extinguisher – or two – one for the inside of your car, the other for your garage.
5 facts that will change the way you think security
The NFPA (National Fire Protection Association), the world's leading advocate of fire prevention and an authoritative source on public safety stresses the importance of smoke alarms and automatic sprinkler systems:
* An estimated 890 lives could be saved each year if all homes had working smoke alarms.

* 65% of reported home fire deaths in 2000-2004 resulted from fires in homes with no smoke alarms or working smoke alarms.

* The risk of dying in a home fire decreases by about 80% when sprinklers are present.

* People in homes with sprinklers are protected against significant property loss - sprinklers reduce the average property loss by 71% per fire.

* Sprinklers typically reduce the chances of dying in a home fire by one half to two thirds in any kind of property where they are used. Together with smoke alarms, sprinklers cut the risk of dying in a home fire by 82%, relative to having neither.
Similar Articles
[ November 2009 ]

[ November 2009 ]