Did you know?
November 2009
The following revelations are sure to make you RETHINK your security . . .
Dr Rudolph Zinn, from the Department of Forensic Investigation at The University of South Africa (UNISA), recently presented the findings of an investigation into trends in house robberies and hijackings in South Africa. The study included the responses of 60 convicted criminals, 30 of which were convicted for house robberies and 30 for motor vehicle hijackings, incarcerated in the six largest correctional facilities in Gauteng.
According to statistics released by the South African Police Service (SAPS), house robberies have increased by 13,5% in the last financial year (2006/7–2007/8). Many of these crimes were carried out by repeat offenders.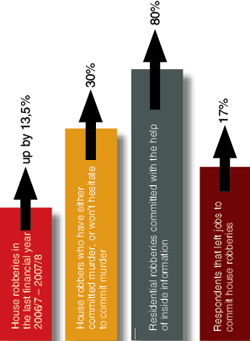 Of the 60 criminals interviewed, 20 of the 30 respondents convicted for house robbery, reported to have been involved collectively in 2051 crimes they have never been convicted for. Presenting the finding at a recent ADT breakfast, Dr Zinn said it was surprising that 17% of the respondents had left jobs to commit house robberies. 97% said they committed crime for financial gain. Of the monies acquired through house robberies 35% was spent on necessities for survival while 65% was spent on luxuries.
The findings revealed that 57% of house robberies occur between 19h00 and 24h00. Respondents said up to 77% of the time they choose a target based on inside information and in a neighbourhood where there is a low security presence.
More facts:
</i>* Of the almost 15 000 residential robberies committed in 2008, half took place in Gauteng.
* The average age of a house robber is between 19 and 26 years.
* An average of 30% of all house robbers have either committed murder, or will not hesitate to commit murder.
* Only 17% of house robbers are foreigners.
* Of all arrested robbers, 90% had no matric or were unemployed. The 10% who had been employed, gave up their jobs when confirming how much they could 'earn' from a robbery.
* Most victims or targets are affluent persons who openly display their wealth.
* 80% of residential robberies are committed with the help of information from domestic workers, gardeners and former employees.
* The robbers will monitor the home and movements for as long as is needed to formulate a plan of attack – sometimes up to two weeks.
* All gangs research and monitor the response times of armed response companies.
* Most attacks occur between 19:00 and midnight as people are relaxed, busy cooking or watching TV, and security systems and beams are not activated. Robberies continue until 04:00 in the morning.
* The biggest deterrent confirmed by robbers themselves, are small dogs that are kept inside the home.
* Alarm systems and armed reaction services are not considered a deterrent. Electric fences, closed-circuit TV (CCTV) and detection beams do, however, deter robbers.
* An average of R5000 is stolen during each robbery.
* Surprisingly, victims of house robberies are only seriously injured in 2% of all incidents.
* Only 35% of robbers stole for basic needs (hunger, poverty), while 65% enjoyed the money and spent it on clothes, cars, etc.
* The average robber commits 103 robberies over seven years before being caught.
* A staggering 97% of all robbers are armed and on average there are four members in an armed robbery gang.
* Most attackers' homes or bases are a 10 to 30 minute drive from the target address.
* The conviction rate for house robberies in South Africa is only 7,67%. In the USA it is 53%.</i>