Reader give-away: Network camera - best-in-class image quality
November 2009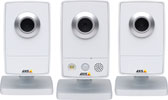 The AXIS M1011 network camera is perfectly suited for securing small businesses, boutiques, restaurants, hotels or residences. It offers superior video quality in its class.
One lucky reader will win an AXIS M1011 network camera.
For more information on the Axis range of network cameras contact Axis Communications on +27 (0)11 548 6780 or e-mail
tami.alves@axis.com
To enter, SMS 'camera' to 35060. Each SMS costs R3,00.