Reader give-away: Back to basics with AVG 9.0
November 2009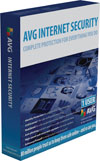 Phoenix Software is providing five readers with the latest AVG Internet Security release, version 9.
With AVG Internet Security, you get a worry free experience every time you go-online. Multiple layers of protection mean you do not have to worry about identity theft, spam or viruses. It will even stop you visiting harmful sites before you can click on them.
LinkScanner takes over where anti-virus cannot go – into the depths of Web pages you have not even visited yet, you also get safety ratings for your Google, Yahoo! and Bing/MSN search results.
Identity Protection makes sure your passwords, credit card information, bank account details, and other valuable data are safe from even the newest and most sophisticated threats.
Five readers can win a copy of AVG 9.0 by sending an SMS 'AVG' to 35060. Each SMS costs R3,00.